Photovoltaic and Art
Solar cells can also be a powerful artistic tool. Artistic portfolio of solar cells and/or photovoltaic modules include sculptures like trees, sails, sundials, abstract statues etc. Perhaps the most sophisticated artistic application of solar cells is their use in special architectural glass applications.
Szymon Klimek
Szymon Klimek achieved a Master of Sciences (Engineering) degree. His first model was a locomotive with a coal wagon (tender) at a total length of 80 mm. After that he built more than 100 miniatures like cars and stationary steam engines. A part of his amazing portfolio are also micromachines powered by solar cells.
Sarah Hall
Sarah Hall is one of North America's best known stained glass artists. Her work has received numerous awards for outstanding liturgical art from the Interfaith Forum on Religion, Art and Architecture and Ministry and Liturgy. These include several International First Place 'Bene Awards' Outstanding Liturgical Art and Honor Awards from the American Institute of Architects.
Ms. Hall was elected into membership of the Royal Canadian Academy of Art, an honour achieved by only five Canadian glass artists in the history of the Academy. Her exceptional contribution to the built environment was honoured in 1997 by the Ontario Association of Architects "Allied Arts Award".
Recommended Books
| | |
| --- | --- |
| | Hall, Sarah, (2007), The Color of Light: Commissioning Stained Glass for a Church; Liturgy Training Publications, ISBN 978-1568543116. |
| | Hall, Sarah, (2011), The Glass Art of Sarah Hall: Glassalmerai Peters, ISBN 978-0986870408. |
Spotlight Solar
Spotlight Solar makes solar systems which look like sculpture. Our intent is to make clean energy more visible and attractive, to inspire wider adoption. Spotlight's products are designed to complement other environmental investments, like rooftop solar systems, which tend to be hidden. By creating an engaging touch-point, Spotlight hopes to add new value to environmental investments through image value. Stakeholders, whether they be customers, students, employees, or the public, will be reminded of the owner's sustainability efforts, with associated benefit.
MStudio
Owned by Miguel Merino "mstudio" is the source of outstanding photographs. Miguel's portfolio also includes amazing snapshots of environment and photovoltaic power plants.
Solarsail Münsingen
Photovoltaic array "Solarsail" is one of the most beautiful examples of solar art worldwide. Array located in Münsingen, Switzerland with peak power of 8,2 kWp and an area of 85 m2, produces about 6500 kWh of energy annually. It consists of about one houndred modules and it reaches impressive height of 22 m. Its windproof steel construction is anchored into ground. Annual yield optimization is achieved by slightly inclined construction. "Solarsail" was awarded by many awards - it received Prix eta+ 1999 award and International Design Award. More...
Thomas Lindsey's Solarworks
Inspired by the work of Dale Eldred, Thomas Lindsey draws on his background as an architect and sculptor to develop a series of large solar-powered installations. Each of these installations is made of a kinetic wheel, cone, or drum activated by a set of photovoltaic solar cells. A tracking device will be used to direct the cells at the sun's path. By using solar energy as a power source, Lindsey hopes to encourage the use of environment-friendly energy sources as the issue of global warming becomes more urgent. More...
Solarstraße Gleisdorf
There aren't many cities in the world like the Austrian town Gleisdorf, which built solar energy sample buildings and devices. Major atractions is "Solar Street" in Gleisdorf. The "Solar Street" is a 3.5 km long street section, where you can find around 80 sample objects powered by photovoltaic systems, such as a public solar clock, advertising boards and street lights. Solar cells have also been used in art. Along the road you may find solar fontain, sundial, solar tree etc. all powered by solar energy. Even artistic creations like solar tree are connected with public grid. The largest photovoltaic system in the street is a facade-integrated system with a 10 kW peak power. Complete office building electricity demands will be covered by the system. The photovoltaic system solar collectors and transparent insolation are also used within the building. The headquarters of AEE (Austrian Society for Renewables) is another interesting example of a passive solar house with solar thermal energy application and photovoltaic system placed on the roof.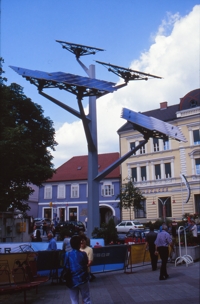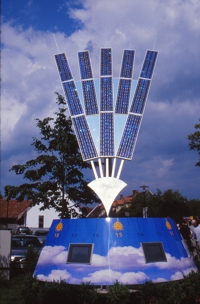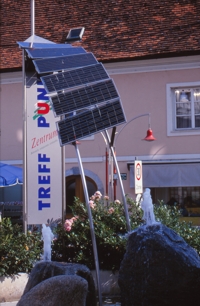 Solar Art - Web Sites
Thomas A. Lindsey - Inspired by the work of Dale Eldred, Thomas Lindsey draws on his background as an architect and sculptor to develop a series of large solar-powered installations.
Szymon Klimek - solar machines powered by solar panels closed in glass goblets, amazing creations...
Stanford SOLAR Center - Science and art are intertwined, each reflecting and inspiring the other. Here you can find images and expressions relating to solar science, many of them developed by the scientists themselves to use when processing data.
Solarsail Münsingen - The Solarsail located in Münsingen/Switzerland is a solar power plant. With sunlight electricity without air pollution, without noise, and without risk is produced.
Sarah Hall Studio - Sarah Hall is a Canadian stained glass artist whose work has received numerous awards. Sarah attended the Architectural Glass Program at Swansea College of Art in Wales, UK and earned her Diploma in Architectural Glass from the City & Guilds of London Institute.
Jayant Shidhaye - Jayant Shidhaye is a solar energy expert and in a career of over two decades spent all his time developing and marketing Silicon - Solar Energy Systems. From the technically complex world of solar electricity. to art has indeed been quite a transformation. Jayant Shidhaye is now probably the world's only artist who has used the medium of silicon chips to express his artistic talents.
Sanyo Solar Ark - The design of the Solar Ark was inspired by the vision of an ark embarking onto a journey toward the 21st Century. Only four columns are used to support the entire structure, thus giving the impression of floating in the air.
Solarstraße Gleisdorf - Unique use of solar energy (photovoltaics) in urban environment - interactive tour.
Spotlight Solar - Spotlight Solar makes customers' properties distinctive with great looking solar. These novel structures don't replace rooftop solar systems, they complement them and authentically remind people of your environmental investments.